[ad_1]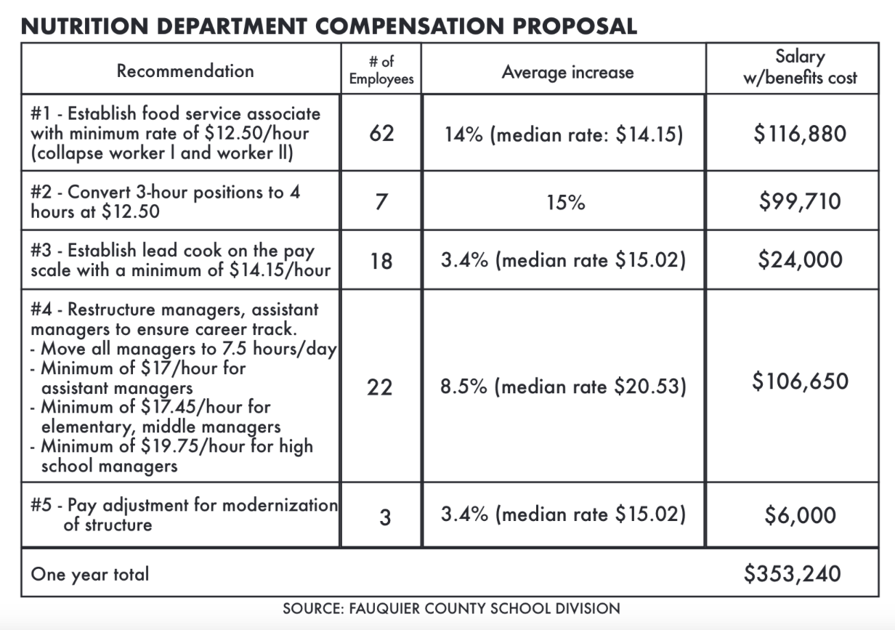 The Fauquier County School Board will see details of a plan to hike pay and benefits for school nutrition workers at its next school board meeting Oct. 15. The lowest-paid could see a mid-year increase in their hourly wage from $10.31 to $12.50. In addition, all food service associates would be able to work four-hour shifts instead of three-hour shifts, and therefore be able to access part-time health benefits. The increase would affect 69 workers, many of them dishwashers and cashiers.
In another change effecting this group, "Worker 1" and "Worker II" classifications would be changed to the more inclusive "food service associate."
The Personnel Committee of the Fauquier County School Board met Thursday afternoon to get a briefing from Katelin Hays, Fauquier County classification and compensation analyst, about a proposal that would adjust salaries and benefits for nutrition workers to bring them closer to those of bus drivers. School Board Chairman Suzanne Sloane said that when the board agreed to raise compensation for bus drivers, "that was successful. We had a decrease in vacancies."
Currently, the school division has 12 or 13 vacancies in the nutrition program, seven of them in the bottom tier of experience. Hays said that the current rate of $10.31 "is not competitive" when compared to other school systems or in the private sector — at Home Depot or Walmart, for instance.
Raising the hourly salary to $12.50 for 62 employees would cost $116,880 for one year, giving a 14 percent median increase to those workers.
Raising the rate and adding one hour to the work day for the seven people who currently work three-hour days would cost $99,710. That number is so high (relative to the number of people it would effect) because adding the extra hour would not only raise the rate and pay for the extra hour, but the cost estimate also takes into account how much the school division might have to contribute for the health benefits of those employees. Not all of those employees would necessarily opt in for those benefits.
The change would raise those seven employees' compensation by a median 15 percent. Executive Director of Administration and Planning David Graham asked the question, when three-hour-a day workers receive only $10 an hour and no benefits, "Is it really worth it to them to come in to work?"
The cost estimate only accounts for the seven currently employed nutrition workers; it does not include the cost that would be incurred if vacancies were filled at this level.
Another proposed change would be to operationalize the lead cook position, previously supplemented by Fauquier FRESH, at a minimum rate of $14.15 an hour. This would affect 18 people at a projected cost of $24,000.
The fourth proposal, which would increase the total by $106,650 and affect 22 employees, would restructure managers and assistant managers "to ensure a career track." It would mean that all managers would have a 7.5-hour day (some are now working six-hour days), providing consistency and allowing for more training opportunities. Assistant managers would be paid a minimum of $17 an hour; elementary and middle school managers would be paid a minimum of $17.45 an hour; and high school managers would be paid a minimum of $19.75 an hour. The median increase in pay for this group would be 8.5 percent.
The last of the changes would adjust pay for three administrative positions in the nutrition department. School spokeswoman Tara Helkowski explained that these staff members are in charge of menu building and compliance, ordering, training, federal review and similar duties. They would receive a 3.7 percent raise, for a median rate of $21.77.
The total cost for the mid-year proposal would be $176,620.
The amount to provide increased compensation for a full year would be $353,240 and would have to be folded into next year's school budget. School Superintendent David Jeck pointed out that since school board elections take place Nov. 5, the "new board" would be making those decisions.
Jeck said that the board's approach to increasing salaries across the school system has been to "pick a group and hit it hard. Fix one problem and move on to the next. I think that's the right approach."
Last budget season, the school board and supervisors worked together to give teachers and assistant principals a significant raise. This year, the board is expected to look at addressing administration and support staff compensation.
Sloane said that she has received letters from nutrition workers about a raise, "and I have heard from their co-workers too, supporting the increase."
About the nutrition workers compensation proposal, Jeck said, "I'm really glad we are doing this. It's the right thing to do."
The full school board could choose to vote on the proposal Tuesday night. If the board supports the plan, the Board of Supervisors would have to approve the use of end-of-year funds to pay for the mid-year salary bumps.
Reach Robin Earl at rearl@fauquier.com
[ad_2]

Source link