[ad_1]

River Fine, who graduated from Eastern New Mexico University with a bachelor's degree in biology in May 2018, was recently accepted into the Central Michigan College of Medicine and the University of New Mexico School of Medicine. He is also waiting to hear back from the Texas Tech University Health Sciences Center School of Medicine.
The Greyhound Grad, who plans to begin medical school in late July or early August this year, discusses his time as a student at ENMU and his career goals: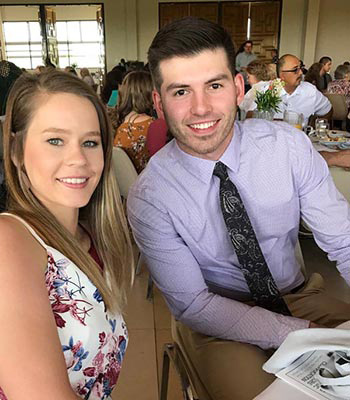 What inspired you to go to medical school?
My passion for medicine began unexpectedly after tearing my ACL in a rodeo injury my senior year of high school. I spent some time with my orthopedic surgeon, Dr. Bill Barnhill, and I remember thinking that he was one of the nicest people I had ever met.
Dr. Barnhill was encouraging throughout the entire process and made me feel important, more so than any other physician I had talked to in the past. For this reason, I knew there was nothing I wanted to do more than to become a physician and encourage others while helping restore them to their desired lifestyle.
Which part of medical school are you the most excited for?
I think I am most excited about working with other students from different backgrounds, and learning how to work towards a common goal together. However, I am also excited to continue learning new information as I work through different rotations in medical school to determine what specialty I am interested in the most.
What do you hope to pursue as a career?
As of right now, I am interested in pursuing a career in sports orthopedic surgery. I would like to function as a team physician for possibly Texas Tech or another university in the Eastern New Mexico/West Texas region. However, I want to begin medical school with an open mind to the various other specialties.
What do you hope to achieve in your career?
The most important thing to me is making sure that my patients trust me and that they know they will receive the best of care from me. Additionally, I have always wanted to develop a surgical implant that would drastically improve a patient's condition, i.e., a meniscal implant that prevents a total knee arthroplasty (or total knee replacement). I also hope to have my own private practice and function as a team physician as stated above.
How did ENMU prepare you to go to medical school?
My education at ENMU has been second to none. At first, I was discouraged that my application would be subpar because I attended a smaller university. However, this couldn't be further from the truth. ENMU's small class sizes allowed me to interact with the professors not only during office hours but also during class, which ultimately helped me understand difficult subjects better.
After talking to other students during interview days, I have also learned that ENMU students are able to benefit from a cadaver lab whereas most other universities do not have one. This not only provides ENMU students with a strong background in anatomy but also provides opportunities to identify anatomical landmarks on cadavers before medical school.
Lastly, thanks to courses like "Advanced Medical Physiology" taught by Dr. Matthew Barlow and Dr. Manuel Varela's "Immunology" course, I am confident that I will begin medical school with a strong background in critical thinking and problem solving.
Which academic honors did you have during your time at Eastern?
I received a rodeo scholarship, the Bettie G. Miller scholarship, the Wells Fargo Bank scholarship, the ENMU Foundation scholarship and the Freshman Academic scholarship. I was also on the Dean's List for the majority of the semesters between 2014 and 2018 and graduated with honors.
Which activities and organizations were you involved in during college?
I was a member of the Caduceus Health Society from 2014 until 2017, and then the president during the fall semester of 2017. Through the Caduceus Health Society, I volunteered for Meals on Wheels, city clean-ups and St. Jude's cancer research fundraisers. I also volunteered to help kids learn how to rope through local rodeo organizations during the summer months.
During my junior and senior years of college, I worked as a medical assistant at Sievers Sports Medicine and Roosevelt General Hospital/Clinic, while also working part-time in the ENMU Golden Library.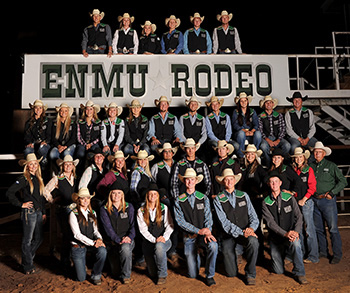 Which professors helped mentor you during your time at ENMU?
Dr. Barlow was my main advisor, and he really helped me manage my entire schedule as I balanced school, work and competing in college rodeo. Dr. Barlow provided insight into which courses I should take first to better prepare me for upper-division courses. He also encouraged me throughout the entire pre-med process and played an integral part of my success in my coursework.
Dr. Varela also played a major role in my ability to do well in upper division courses by giving me examples of how to better my studying habits. Dr. Varela always encouraged me to be myself and find what I was good at and become great at it, which was a mindset that I kept as I prepared for and applied to medical school.
I also want to acknowledge Dr. Kenwyn Cradock, Dr. Youngkoo Cho, Dr. Chang Liu, and Dr. William Cooper for their dedication to providing students with the best education they can. I appreciate all of you.
What was your favorite class at ENMU?
My two favorite classes were probably "Organic Chemistry" and "Biochemistry" because they were difficult to completely understand. However, as I continued to study and put more time in, the information made more and more sense and I loved it.
Why did you choose to attend ENMU?
The main reason I chose to attend ENMU was because I received a scholarship to rodeo, and I knew that I would get an excellent education that wouldn't cost me a fortune.
What advice would you give to students who are interested in your field of study?
The best advice I would give to students who want to go to medical school or any health professional school is to be your true self and to be an expert of yourself. What I mean by this is to pursue things you enjoy and be able to explain those passions to the admissions committees or anyone for that matter. Not everything has to be medically relevant. Admissions committees want to see that you're a normal person. If you like walking dogs, then start a dog walking organization. Major in whatever you want to major in, it doesn't have to be biology as long as you take the prerequisites.
Also, you don't have to be perfect; you just have to be persistent. You don't have to fit the mold of a perfect student. I also highly recommend starting your medical application early. Start writing your personal statement AT LEAST a year before you plan to apply, along with the other areas of your application. Lastly, don't be afraid to ask for help.
Tell us about your family.
I was born in Hobbs, New Mexico and I lived in Lovington, New Mexico until I was four. I then moved to Portales with my family and lived there throughout grade school and college. I have two amazing sisters who both went to ENMU. One lives in Ruidoso, New Mexico and one lives in Houston, Texas. My parents still both live in Portales. My mother is a registered nurse in the ER in Clovis, and my father owns his own trucking company where he hauls cattle for a living.
[ad_2]

Source link